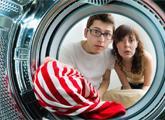 For safety reasons, it is a good idea to have your clothes dryer professionally cleaned yearly. Dust, lint and other debris can become trapped and clog vents, which could be hazardous. To avoid the risk of a potential fire, contact our well-established and experienced Austin, TX dryer vent cleaning company today.
Many things indicate that your dryer vent is clogged such as lint coming out of the dryer vent opening and filter. Also, there may be a large amount of lint and debris behind the dryer. This can be dangerous, so it is highly advised that you call a reputable company like ours to have your vent unclogged.
Other things can lead to clogged vents such as dirty screens or cages that are designed to catch various debris. Ducts that are clogged can also block air flow as well as bent or twisted connecting hoses.
Another sign is if the clothing takes a longer time to dry than normal. For example, if you have to put your clothes through more than one dryer cycle, most likely the vent is blocked. This could increase your electric bills, so hire us today.
If you notice that your clothing is very hot when you remove it from the dryer, your vent is more than likely clogged. A blocked vent will make your dryer work harder, which could cause it to malfunction or stop working.
A strong burning odor is also an indication that the dryer vent is clogged with lint and debris. It is unwise to ignore burning smells because trapped lint could ignite. Contact our company right away if you notice burning odors coming from your clothes dryer.
Having your dryer inspected yearly will help keep your dryer in top operating condition. Plus, it will help save money. Moreover, it will lessen the chance of a fire and increase your safety. If your dryer vent is clogged, call our established Austin, TX dryer vent cleaning company right away.