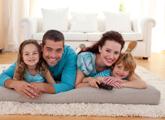 The area rugs that you have in your home add warmth, enhance the appearance and adds ambiance to any room in your home, which is why you have them. You take great care to keep them looking good, but unfortunately that is not always possible. People walk on your rugs with dirty shoes and sometimes guests spill drinks and food on your beautiful rugs.
This could be a disaster, but luckily you can call our professional Austin, TX area rug cleaning company to make your rugs look like new again. We are well-experienced and our skilled technicians have the expertise to safely clean your rugs.
We take great care when it comes to cleaning your rugs. We use mild cleaning solutions and professional equipment that will not snag or rip your rugs or cause any fading or discoloration. We know that you value your area rugs and do not want them to be ruined.
Our skilled technicians assure you that your rugs will come back to you looking like new. They know which cleaning agents and methods are best for the texture of your rugs and will thoroughly clean them and remove stains, dirt and odors. Our expert staff will also sanitize your rugs.
If needed, we can replace or replace the fringes on your rugs if they have become frayed. We can also add new padding to your rugs to make them more comfortable to walk, sit or lounge on. In addition, they we can add a protective stain-resistant coating so that your rugs will stay fresh and clean for a longer period of time.
We run and operate a professional and reputable Austin, TX area rug cleaning company that is also reliable and trustworthy. Your rugs will be spotless and will smell fresh and clean. Contact us today for a consolation or to make an appointment.
Why Hire A Professional Austin, TX Area Rug Cleaning Company