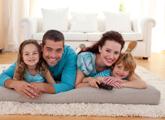 It is a good idea not to trust just any company to clean your valuable area rugs. Not all cleaning companies are the same and not all have the expertise or know-how to properly clean your area rugs.
If the wrong cleaning solution or method is used, your rugs may be ruined beyond repair and may have to be replaced, which can be costly to you.
Call our reputable Lakeway, TX area rug cleaning company today, if your rugs need deep cleaning. We have been in business for years and have many satisfied customers. Plus, our technicians are highly trained and proficient and have the skills to safely and successfully clean your rugs and make them look spotless.
Vacuuming your rugs will not thoroughly clean them. All you will be doing is sweeping away the dirt and dust on the surface. You will not be deep cleaning your rugs or removing the dirt and grime that has become rooted in the fibers of your rugs.
Our cleaning methods are designed to not only remove dirt and grime, but they also get rid of persistent stains. In addition, the deodorizers that we use will neutral tough odors and will give your rugs a fresh smell.
Plus, we will not cause any damage to your rugs such as staining, discoloration, ripping or tearing. Your rugs will be clean and will look you just purchased them.
We use high quality cleaning solutions and up-to-date equipment to safely remove dirt and odors from your area rugs. Once again, you will be proud to display your rugs in your bedroom, dining room, den, living room or wherever you have area rugs placed in your home.
Our company is among the best, which is why we urge you to contact our well-established and reliable Lakeway, TX area rug cleaning company today if your area rugs need cleaning.
Why You Need A Lakeway, TX Area Rug Cleaning Service Like Ours