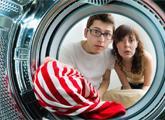 If you have not had the vent of your clothes dryer cleaned within the year, it would be wise if you called a professional dryer vent cleaning Ceder Park, TX company like ours and make an appointment.
Operating a dryer that has a clogged vent is not safe. Lint is a very inflammable material. It is very unsafe to run a dryer with an accumulation of lint and debris. Trapped dust, lint and debris could catch on fire. In addition, an accumulation of lint in the vent also increases the amount of heat used during operation, which can cause the dryer to overheat.
A potential fire is not he only hazard to worry about. Clogged or blocked vents can also cause poisonous carbon monoxide to leak into your home, which further puts your health at risk. Moreover, carbon monoxide can be lethal, so if your dryer vent has never been cleaned in over a year, you should have your dryer vent cleaned right away.
Many things can cause a dryer vent to become clogged such as lint build-up and bent, kinked, sagging, crushed or twisted vents. Poorly connected vents can also cause a blockage. If the screens and cages that are designed to prevent animals and debris from coming in from the outside become clogged, air flow will be limited.
Having your dryer cleaned on a yearly basis could also help reduce your energy bills and improve your dryer's efficiency. When the vent is clogged, it makes your dryer run hotter and longer, which increases the amount of energy used. It can also ruin your dryer and cause it to quit working properly. If you have your dryer vent cleaned, it will help reduce the amount of energy used and help reduce your utility bills.
To avoid a potential fire in your home, contact our reputable and well-established dryer vent cleaning Ceder Park, TX company today.
Our Dryer Vent Cleaning In Ceder Park, TX Makes Your Home Safer