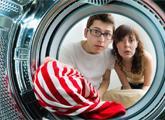 Austin, TX Dryer Vent Cleaning – 3 Warning Signs That it's Time to Clean Your Dryer Vent Professionally
Can you imagine waking up to a house that is on fire? And later you discover that this damaging fire could have easily been avoided if you had just called in your Austin, TX dryer vent cleaning professionals and got it lint-cleaned in time?
Did you know that according to the National Fire Protection Association, the clothes dryer – a very common household appliance is usually the leading cause of more than 15,500 U.S. house fires since 2010??
Lint and other debris from your clothing gets built up in your overworked clothes dryer hose and vent ducts, decreasing air flow, backing up the exhaust gases and then, eventually all this blockage creates a destroying fire.
So how to know if your Austin, TX dryer vent cleaning is due and you need our services to perform a thorough lint and debris removal ASAP?
1. Drying time for clothes starts to take longer and longer.
When your clothes dryer vent is jammed with lint, the cloth drying cycle can double or triple in time and that also costs a lot in energy bills.
2. All your clothes and the outside of the dryer are too hot to touch.
If you observe that your clothes are usually too hot to handle at the end of a dryer cycle or the dryer itself is hot to touch, then this warning sign means the dryer vent is not exhausting effectively and you need to call our trained technicians immediately to prevent a fire.
3. You smell something burning.
If you smell burning when you run the dryer, know that it is the lint jammed in the exhaust tube, the lint trap and also in the drum casing which when on fire, creates that burning smell.
Austin, TX Dryer Vent Cleaning – 3 Warning Signs That it's Time to Clean Your Dryer Vent Professionally