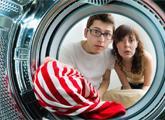 A fire can start in your home from various sources such as faulty wiring, burning candles or from cooking greasy foods on the stove-top. One thing that most people probably do not think about is the buildup of lint clogging the vent of their clothes dryer that could ignite.
Several issues can cause a clothes dryer vent to become clogged. One common problem is a vent that has become crooked or twisted or that is drooping. When this occurs, trash, lint and debris can get trapped and block the flow of air and start a fire.
To avoid this risk, call a reputable and experienced dryer vent cleaning Georgetown, TX company like ours today. Our technicians are well-trained and highly skilled and will thoroughly clean your dryer.
Another sign that points to a blocked dryer vent is clothing and other items that are not entirely dry after they have went through one or more normal drying cycles. This almost always indicates that there that air flow has been blocked by lint and debris.
Clothing can also be extremely hot after going through a typical drying cycle, which is not normal. This can become a very dangerous situation because your dryer is most likely overheating and could cause your electrical circuit to overload and start a fire.
Burning smells also indicate that the vent is blocked with debris. If there is an increase of lint clogging the vent, it could catch fire. It is important to note that if you do notice a burning odor that your turn off your dryer and contact us immediately to clean your dryer vent.
If you have your clothes dryer inspected annually, it will greatly reduce the risk of a fire in your home. Contact our reliable dryer vent cleaning Georgetown, TX company today for a complete inspection of your dryer.
Keep Your Home Safe With Dryer Vent Cleaning In Georgetown, TX