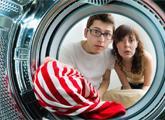 There are several steps to take when it comes to your Round Rock, TX dryer vent cleaning and if one of them is missed it could lead to serious problems down the road. While the most common problem that people face because they don't take care of the dryer vent cleaning is a common house fire. They could start small but quickly grow out of hand, and a simple dryer vent cleaning could have taken care of it for you.
The next problem that people face if this problem is not taken care of is the dryer not working properly. And when something is not working it is often replaced. So instead of spending hundreds of dollars on a new dryer you might want to give us a call first. See we are in the business of taking care of those hard to reach issues and that includes your Round Rock, TX dryer vent cleaning. We take care of the problem from both ends so there is no built up lint anywhere to be had when we are done. As a result you not only get a dryer that stays working at the optimum level, but you get a home that is free of dust and lint.
Instead of trying this job yourself, give us a call so we can take care of it for you. We can work around your schedule and come when you need us to in order to take care of your Round Rock, TX dryer vent cleaning. We want you to be safe so our trained professionals will handle all the work and all you need to do is let them in the door. A quick and easy phone call is all it takes.