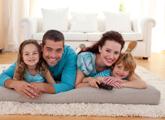 If your area rugs are valuable and intricately detailed, you should be very careful who you allow to clean your rugs. You should pick a reputable and knowledgeable area rug cleaning Round Rock, TX company that has years of experience such as our company.
Typically, your area rugs will get dirty because they are in rooms and areas of your house that are used daily such as the dining room, kitchen, bedroom, hallway, den or living room.
We have the expertise and know-how to clean your rugs safely and efficiently without causing any damage to the fiber or colors. Plus, we use the correct cleaning agents and methods of cleaning so not to ruin your rugs or make them streak, fade or yellow. Once your rugs have been ruined, they will have to be replaced and that can be very expensive.
If your area rugs need a thorough cleaning, contact our reliable area rug cleaning company. We have been successfully cleaning area rugs for many years and our technicians are well-trained and efficient.
Our technicians are also proficient in the operation of the equipment used to clean your rugs and will not rip or tear your rugs or pull or snag the fringes. Your rugs will look new when our technicians have completed the job.
We use the latest equipment and cleaning techniques to get rid dirt and grime and remove stubborn stains. Plus, we will use strong deodorizers that will neutralize musty odors to refresh your area rugs.
Due to our deep-cleaning methods and effective cleaning agents, your area rugs will be spotless. You can place them anywhere in your house and will not have to be embarrassed whenever company drops by unexpectedly.
We are a reliable and established area rug cleaning Round Rock, TX company. To get your area rugs thoroughly clean, call our trustworthy company today.
Our Professional Area Rug Cleaning In Round Rock, TX Keeps Rugs Looking New