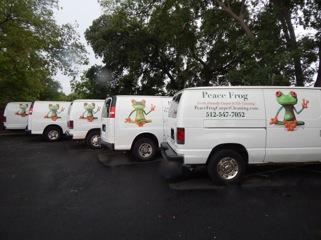 Truck mounted carpet cleaning in Georgetown, TX is probably the best and most efficient carpeting cleaning method available today. It thoroughly and effectively cleans all dirt and debris from your carpets and leaves nothing behind. Plus, it makes dull and dingy carpeting look like new.
What makes this method so effective is the fast drying time, which is due to the high level of water pressure and hot heat that is used to eradicate stains, odors and grime. Your carpets will dry in a faster amount time when this method because the hot temperature of the water used in combination with the high level of water pressure means there will be less water used to clean your carpeting.
The machine that is mounted on the truck is powerful and will safely and effectively extract and remove dirt and odors from your carpet. In addition, truck mounted machines use a strong vacuuming power that deeply cleans carpeting and gets rid of embedded dirt and allergens.
We use soap-free and chemical-free cleaning solutions, which mean your carpeting will not be sticky to the touch because there will not any residue. With truck mounted carpet cleaning, your carpeting will be completely clean and will be refreshed with deodorizers.
Besides efficient cleaning power, this method is neater than other carpet cleaning methods because there will not be any dirty equipment tracked into your home. The only equipment that we will bring in your home is the long hose that extends from the truck. Everything else such as cleaning solutions, tools and buckets stay on the truck, which also lessens the time it will take for our team to clean up.
If your carpets are filthy and need deep-cleaning, call our reputable and established truck mounted carpet cleaning Georgetown, TX company today. Your carpets will be thoroughly cleaned and will smell fresh.