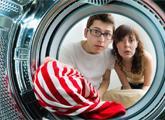 Your Lakeway, TX Dryer Vent Cleaning Specialist
There are many reasons to keep your house clean, and germs are only a small part of it. There is how organized it will be, look, and feel when the house is cleaned. There is the safety of not stepping on anything and tripping in the process, hurting yourself or others. And there is fire safety and hazards to think about when keeping your home cleaned.
While most people think of the basics such as cleaning their carpets, doing the laundry and washing the walls in their homes, there is an important factor that is almost never considered yet is more hazardous. This would be those dryer vents and where the dust goes from your dryer as it is cycled through. Because of the buildup for these dust and dryer waste, it makes the Lakeway, TX dryer vent cleaning a higher priority than most tasks of cleaning in the house.
Every time the dryer is used it is blowing out exhaust, dust, and excess residue from your clothes. It comes out in hot air and generally shoots out the back of the home. Over time those vents can get clogged and once they do that heat just builds up. It can then burst, causing a fire or small explosion at times not only damaging your home but possibly causing more damage than you would want.
We can take care of your Lakeway, TX dryer vent cleaning for you as part of a regular routine maintenance or as a one-time cleaning opportunity. We want you and your family to be safe so it just happens to be one of the many different services we offer when it comes to keeping your home clean. Don't become a fire hazard, let us take care of your Lakeway, TX dryer vent cleaning today.