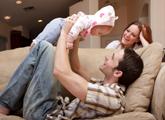 3 Tips Before Getting a Professional Lago Vista, TX Upholstery Cleaning Done on Your Furniture
A professional cleaner is not really needed for every furniture mess that happens, but sometimes when calling in the experts is the best choice.
Here we present 3 things you must consider before hiring trained upholstery cleaners.
1. How dirty is your upholstery really?
You could easily clean up tiny stains on your couch and cushions, but if your pets have seemingly claimed your couch as their own personal bed-cum-seating-chair, you may choose to hire our professional Lago Vista, TX upholstery cleaning services. All our Peace Frog Carpet cleaner professionals are well-trained and know the best ways to remove all the sticky pet hair and ugly stains.
So, the rule of thumb could be – if using the upholstery tool on your trusty vacuum cleaner, is no longer effective in getting rid of pet gunk, it's time for a professional deep cleaning.
2. What materials cover all your furniture?
Is your furniture a combination of cloth and other fabric? You might discover that hiring professionals for your Lago Vista, TX upholstery cleaning would be the right to get it all thoroughly clean. Most store-bought cleaners are usually not designed to be used on multiple types of furniture material. For instance, upholstered kitchen chairs should be cleaned on a regular basis, by a trained carpet cleaning experts, since commercial fabric cleaners may end up damaging the wood, plus, kitchen upholstery fabrics get soiled very easily.
3. Check your furniture's warranty.
If all your living room upholstery is still under a warranty, DIY cleaning could invalidate that said warranty. Read all your warranty paperwork, specially the fine print, and then indulge in an upholstery cleaning spree. If you still need professional Lago Vista, TX upholstery cleaners, then do discuss the terms of the warranty with our hired carpet cleaners.
We will break it down to you in simple terms and aid you in any extra steps needed to maintain that warranty.
3 Tips Before Getting a Professional Lago Vista, TX Upholstery Cleaning Done on Your Furniture