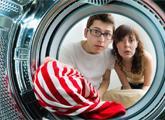 Dryer Vent Cleaning in Austin, TX – Reasons Why You Should Get Your Dryer Cleaned Professionally
Do you realize how crucial it is have your dryer system professionally cleaned periodically? For the DIY-enthusiasts, cleaning out the dryer vent is an elaborate, annual project that involves hours of dedication, and could be a fun challenge for the most fussiest of cleaners. If you don't know how to replace the transition duct, or measure the airflow correctly at the outside termination, or remove all lint carefully, then you're in the majority group of people who call in a licensed dryer vent cleaning Austin, TX professional to clean the dryer immaculately, without any fire risk.
There are benefits to getting it done professionally. Here's why:
1. To Avoid the Lurking Hidden Dangers
With every load of laundry that you put your dryer through, a lot of lint makes it past the lined lint filter and starts accumulating in the dryer's drum, and also in the inner side of the aluminum duct, in the walls, and even around the outside termination where the dryer exhausts.
Remember – cleaning the accumulated lint after each wash cycle is essential, but know this – you're just removing a fraction of the total lint present!
2. Flammability of Lint
Dryer lint is supposed to be super flammable, so much so that the Boy Scout Handbook advises getting dryer lint to aid in starting camp fires! One tiny spark can ignite a dryer fire and damage all your property, and be dangerous for you and your family.
Our certified dryer exhaust technicians have the necessary training and are equipped with all the right tools to discover all the dryer issues you may have, and make your dryer spic and span in no time.
3. Cleaning Dryer Lint is Gross
If you don't want to touch twenty gallons of ugly, slimy, wet dryer lint, or maybe huge bricks of it, call in the professional dryer vent cleaning Austin, TX experts now!
Dryer Vent Cleaning in Austin, TX – Reasons Why You Should Get Your Dryer Cleaned Professionally