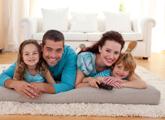 If you have your area rugs cleaned by a our professional area rug cleaning company, we will go beyond what you can do with regular vacuuming, spot cleaning or with using a steam cleaner in your home. Our tools are state-of-the-art and will thoroughly clean your area rugs. Plus, we will disinfect your rugs and get rid of allergens, dust mites, mold and other contaminants that are tracked into your home.
Our staff is knowledgeable about all types of area rugs and will know what cleaning solutions and methods are best for your rugs. If the wrong cleaning agent is applied, your rugs could be ruined. If your hire us to clean your rugs, you would never have to be concerned about us damaging your rugs because our technicians are highly trained and skilled.
Professional Lago Vista, TX area rug cleaning also helps extend the life of your rugs, which means you will not have to spend money replacing your rugs. Our cleaning methods safely remove dirt and grime and will make your rugs look new.
Area rugs that are placed in your living room, family room, dining room, den, and bedroom or in the hall or entry way will get dirty and stained. Over time, pets will have an accident, guests will walk on your rugs with soiled shoes and kids are going to drop food and drinks on your beautiful area rugs. Our technicians will deep clean your area rugs and eliminate dirt, tough odors and stains.
Regular professional cleanings helps keep your rugs looking like new and helps them stay fresh smelling for a longer period of time. We use modern tools and machinery and safe cleaning solutions and methods.
If you want your area rugs to smell fresh and be free from allergens and dirt, call our established and reputable Lago Vista, TX area rug cleaning company today.