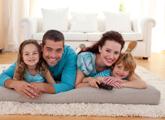 Area rugs can get dirty from spills, pets, and children as well as from everyday use. In many cases, they are placed in a high traffic area, which makes it a good idea to call our established Georgetown, TX area rug cleaning company to have your rugs professionally cleaned at least once a year.
Regular vacuuming and home steam cleaning may not be enough to get your rugs thoroughly cleaned. Rugs trap dirt and allergens that can harm your home's environment. Our techniques will remove the dirt, grime and toxins that your vacuum and steam cleaner is likely to miss.
You can attempt to clean your rugs with commercial carpet shampoo, but that could cause permanent damage to the fibers in your rug and cause the rug to fade. Our staff has the skill and training to safely and effectively clean your area rugs without causing any damage or discoloration.
No one wants to spend money to replace an expensive area rug, which makes it wise to allow our expert staff to do the work for you. In the long run, you will save you money.
Our professional and high quality Georgetown, TX area rug cleaning services include an expert staff, certified equipment and up-to-date cleaning solutions. We will clean and sanitize your rugs and make them look like new.
In addition, if your area rug has a tough or stubborn stain, we can get it out without causing and damage to the rug. We are knowledgeable about all rug types and can clean and treat any type of stain such as pet, ink and food. In addition, we can eliminate foul odors from your rugs. If you use our expert services, your rugs will look brand new and will have a fresh smell.
Our reputable and professional Georgetown, TX area rug cleaning company is the solution for getting your rugs spotless. Contact us today to make an appointment.