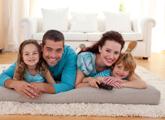 Area rugs add style to any room. However, you must keep them clean like any other kind of carpet. Area rugs can be challenging to keep clean because of the wear and tear. Area rugs require different cleaning products and methods than carpets. Here are some area rug cleaning Lakeway, TX tips.
Vacuuming is an area rug cleaning Lakeway, TX tip you should not ignore. It also helps keep the rug allergy-free. Avoid vacuuming the edges of area rugs since it could cause them to fray. Vacuum the front and back. Remove pet hair with a brush because vacuums usually will not pick them up. If the rug is small, shake it outside. Check local codes to make certain this is allowed.
The label should tell you if the rug should be spot-cleaned, dry-cleaned, or machine washable. If it is machine washable, wash on the delicate cycle. Separate long fringe into several hanks and tie with a white string to avoid tangling. Never hang area rugs on a clothesline to dry because it will distort the shape. Hang on a drying rack or on a stack of bricks on a patio or porch. If the rug is small and made from synthetic fibers, it can be set to dry on a worktable or counter covered with towels or old sheets.
It is advised to deep clean the rug every 12-18 months. Use a product suited for area rugs. Test the product on a small patch to make certain it is colorfast. Large rugs can be cleaned better on a concrete or vinyl surface. Let the rug dry completely. Never allow spills to set too long. Blot them in a straight line with a damp 100% cotton cloth. To clean wet spills, lay the cloth down first and stand on it. Avoid rubbing.
These tips should help you keep your rug clean. Cleaning makes area rugs last longer.