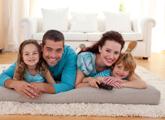 There are so many things that can happen to your rug area, spills and other issues, that will contribute to your rug getting dirty over time. We can help you with your Round Rock TX area rug cleaning that you need to get taken care of. We have been dealing with Round Rock, TX area rug cleaning issues for many years now, we have deal with a variety of different rug property types. Whether you have an area big or small, we have seen it all, and we would be happy to get started on solving any cleaning issues that you might have for us to take care of.
Don't spend the time worrying about cleaning yourself, when you can get an expert team like ours on the task for you. We have all of the right tools for the job and we would be happy to solve your cleaning task. If you are considering any cleaning services to do with Area Rug Cleaning, then please contact us first and give us the chance to show you why we have earned a reputation as being one of the best.
Get started with us today, it's easy to contact us, and we would be happy to get started on working toward a solution with your cleaning task that you have for us. We have a professional and friendly team that is looking forward to offering you our top-of-the-line cleaning services for your rug area. When you have any cleaning task for your rug that you need to address, then think of us and our professional team first as the ones to get it done for you. We will take care of it from start to finish, and you will be thoroughly impressed with our quality.