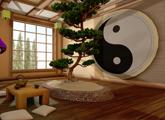 You have heard before of your friends telling you to be a "cautious buyer". Beware of those companies conning their potential customers out of their money.  This type of situation describes when you are hoping to get a perfect deal on a product to purchase like your next hardwood floor cleaning service, but you get ripped off with less than wonderful service so even the low cost is too much.  What is more crappy than handing over your dollars and getting even less than? In the end, you don't have your dollars and your hardwood floors aren't better and may even be ruined. So how can you be confident you have a great price and the service will be even better?
Peace Frog Hardwood Floor Cleaners, offers 5 star service. Not 3 star. Not even 4 star but five star cleaning. So Georgetown, here is your five star service. Access your smart phone or type on your computer and try us out. Five star hardwood floor service at your earliest request.
What makes us the best hardwood floor cleaners in Georgetown? Yes, really a  5 star company?
You will always get an estimate that won't change when we get together. We don't offer super low quotes just so we can get a meeting. We value honesty and integrity with a smile. You will certainly be pleased and we will definitely meet all your list of hardwood floor cleaning requests. We back up every price offer we make. We won't rush so we make the price quote correct the first time, and provide a true cost for what you really want the hardwood floors to look like when we are finished.
Our hardwood floor cleaning is guaranteed to meet your requests. If you are not completely pleased for any reason you explain to us we will return the next day and make it according to what will make you satisfied. Your expectation for the best hardwood floor cleaning is how we will respond to you.
https://peacefrogcarpetcleaning.com/
512-259-6606